Update following our CALL for ACTION of the 12th of October
What happened at EYE received a lot of traction from the media but mostly we received a lot of supports from fellows youth organisations, diaspora organisations, MEPs, civil society organisation, amplifying our Call for Action and necessity for the EU Institutions to take actions. What happened at EYE was brought up during the plenary session of October 2021.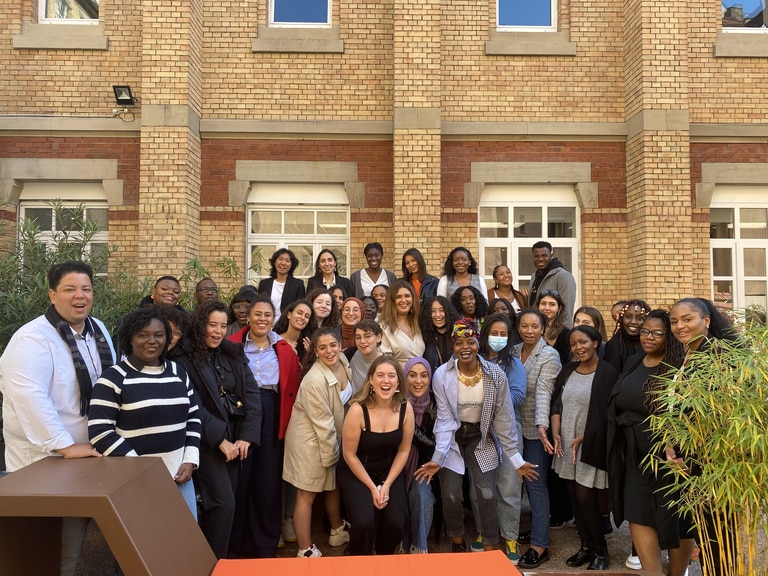 What happened at the European Youth Event, is why #DiasporaVote! exists!
On October 8th and 9th 2021, #DiasporaVote! Brought 50 young people of ethnic minorities and migrant backgrounds to the EYE 2021. They came from France, Belgium, Sweden, Ireland, UK, Italy, French Outer-territories, the Netherlands and Germany. They are involved in the fight against racism and discrimination at grassroot level, bringing to EYE 2021 underrepresented faces of Europe. Most of them had never come to the European Parliament nor given an opportunity to share their stories and experience before.
For 2 months, these young people worked together, from their respective countries, to develop and provide a workshop at EYE 2021 called: "Check Your Bias: Become an anti-racist ally". The objective was to give all participants and members of the audience the necessary tools to realise their own biases against racialised groups, learn about the history behind racism and discrimination and listen to testimonies about the impact of structural racism on the lives of those people as a group. Members of the audience, of all ethnic backgrounds were welcomed to share this meaningful moment.
As we understand that looking into oneself and self reflection can be challenging, being respectful, caring and listening to others are very important for any work, understanding and transformation to happen. However, from the beginning of our workshop individuals from the French Rassemblement National took upon themselves to try to disrupt, provoke, and undermine the work that we were doing.Throughout all of their interjections, they were received with respect and calmness from #DiasporaVote!. We also want to point out that this was not an isolated incident at the EYE, those coached individuals also disrupted and spouted out racist and discriminatory comments during our fellow friends from FEMYSOs'session and all sessions/workshops that were about equality, inclusion and diversity.
What we, at #DiasporaVote! come away with, is that their unsuccessful attempts at dismantling our union contributed to a wonderful moment with allies who did come to learn with a positive attitude. We felt more united than ever. We at #DiasporaVote! want to remember that we were able to provide our workshop to over 80 people, that those 80 people heard us,  felt transformed and received our message. We even see that their disruption actually is supporting all our claims and helping us to create a stronger community and alliaship.
We are all citizens of Europe and should feel safe and welcomed ESPECIALLY in the parliament. We are looking to the European Institutions to stand with us and position themselves as anti-racist allies of those individuals, but also those who were involved in allowing them inside the parliament and those who sponsored their attendance.
If we are a union of equality any and every behavior going towards disrupting that equity should be severely denounced and consequences should be enacted. As we said in our workshop if you see someone being racist you should speak-up!
This is an opportunity, for the European Institutions, to show why we have an anti-racism action plan, an anti-racist coordinator and an inclusion and diversity policy.
OUR CALL FOR ACTION is as follow:
To the European Parliament: we ask that a communication denouncing those racist and discriminatory behaviour be made. We ask that the individuals be banned from access to the European parliament and that the MEPs who sponsored them be also taken accountable for their behavior.
To our fellow POC MEPs; individuals or organizations: we ask that you support our claim by sharing this and help us put some pressure so that we are not silenced.
To the other youth organisation: that also where a victim of those individuals, we ask you to contact us and speak-up to what happened
To our allies: this is the time to show up, speak up, share, put pressure, and to say #notINMYNAME